Early Intervention Services
The early years of a child's life are the most important for his/her health and development. Healthy development means that children of all abilities, including those with special health care needs, are able to grow up where their social, emotional and educational needs are met.
At the Early Learning Coalition of Brevard we are dedicated to supporting you in your efforts to provide services for children that may be at risk of delay.
Our Early Intervention team reads and interprets Developmental (ASQ-3) and Social Emotional (ASQ:SE-2) screening data. Support is provided to increase the child, family, and teacher's skills based on those results. Our Specialists can facilitate referrals to our partners at Child Find/FDLRS (3-5 years) and Space Coast Early Steps (0-3years) for scores which indicate that a child could benefit from further evaluation.
If you and your child's provider would like to discuss available Inclusion services, please contact the Coalition's Early Intervention Specialist at (321) 482-3445.
ONLINE REQUEST FOR INFORMATION FORM
GENERAL RESOURCES
Early Steps
Early Intervention Service for birth to 36 months
1-800-654-4440
FLDRS (Florida Diagnostic & Learning Resource System)
Screening, Assistance & Info for children birth to 5 years
1-800-654-4440
Department of Children & Families
Titusville: 264-4062
Rockledge: 634-3600
Palm Bay: 837-7500
Brevard Family Partnership
Adoption, Foster Care
(321) 752-3226
211
Support Groups
Children's Home Society
Mental health & Medicaid issues
(321) 254-1233
Devereux
Residential treatment for children & adolescents with mental illness and mental retardation
1-800-338-3738
ADA Info
1-800-514-0301
Child Care Law Center
(415) 394-7144
National Dissemination Center for Children with Disabilities
1-800-695-0285
Zero to Three
1-800-899-4301
ADHD/ADD
ADHD/ADD Information
Specialized Tutoring
Hidden Potentials
(321) 267-6318
Autism Info Center
Autism Speaks
Center for Autism – UCF
1-888-558-1908
First Signs
Florida Department of Education
Bureau of Exceptional Education & Student Services
(850) 245-0478
Kids Peace
(407) 339-7451
United Cerebral Palsy of Central Florida
(407) 852-3333
(855) 329-1008
Space Coast Early Intervention Center
Program for children 13 months to 5 years
(321) 729-6858
American Diabetes Association
Information, education, advocacy, summer camp information and support groups
1-800-741-5698
Children with Down Syndrome
American Speech Language & Hearing Association
Apraxia-KIDS
ASQ Screening & Behavior Supports
DO YOU NEED HELP COMPLETEING SCREENINGS IN THE PORTAL?
EARLY INTERVENTION DEPARTMENT STAFF
Are you serving a School Readiness child that has documented Special Needs (IEP)?
You could be eligible for the Special Needs Rate!
If you have any questions, please contact:
Kim Kohler, M.Ed., IMH-E®
Early Intervention Specialist
(321) 626-8354
Lakia S. King, M.ED
Early Intervention Specialist
(321) 626-7424
PYRAMID OVERVIEW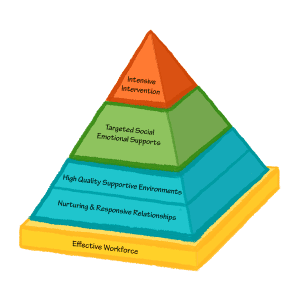 Pyramid Model Overview
https://challengingbehavior.cbcs.usf.edu/Pyramid/overview/index.html
Video Pyramid Model Overview
Where do I start? Responding to Challenging Behavior-Tier One (Blue)
Why isn't it getting better? Tier Two (Green)
When it's Still Not Enough? Tier Three (Red)
Practical Strategies for Teaching Social Emotional Skills
Promoting Social Emotional Competence
When Children Act Out.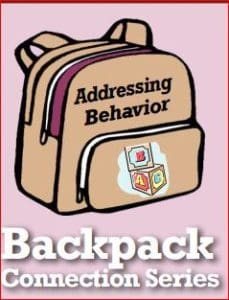 Backpack Connection Series
https://challengingbehavior.cbcs.usf.edu/Implementation/family.html
Behavior Resources:
Backpack Connection Series
https://challengingbehavior.cbcs.usf.edu/Implementation/family.html
Tucker Turtle-Story Book
https://elcbrevard.org/wp-content/uploads/2023/06/TuckerTurtle_Story.pdf
We Can Be Problem Solvers-Story Book
https://elcbrevard.org/wp-content/uploads/2023/06/ProblemSolving_Story.pdf
Our Preschool Rules-Story Book
https://elcbrevard.org/wp-content/uploads/2023/06/Our-Preschool-Rules_Story.pdf