WHAT IS VOLUNTARY PRE-K?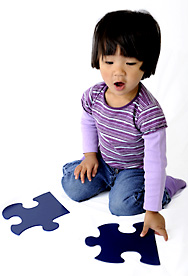 Voluntary Pre-Kindergarten Education Program (VPK) is a FREE educational program created to prepare every four-year-old in Florida for kindergarten and build the foundation for their educational success. The VPK program offers each child an opportunity to perform better in school and throughout life by offering quality programs that include developmentally appropriate curricula with a focus on early literacy skills, accountability, manageable class sizes, and increased teacher credentials.
For more information on VPK, please view the VPK Parent Handbook, VPK Fact Sheet for Families and VPK Specialized Instructional Services Fact Sheet.
HOW DO YOU APPLY FOR VPK?
VPK is FREE to all children that turn 4-years-old on or before September 1, 2012.  Certificates of Eligibility are available for all eligible children in Brevard County.  To register for VPK you must call (321) 637-7272.
You will need the following documents to register your child for VPK:
Valid Photo ID
Your Child's Birth Certificate (original or certified copy)
Proof of Residency (such as your driver's license and/or utility bill *must show physical residence – not PO Box).
After completing the VPK application (this application will be given to you at registration) and providing the required documentation (listed above), you will be issued a Certificate of Eligibility which can be used to enroll with an approved VPK Provider of your choice.
After you have completed the registration process and received your Certificate of Eligibility you will need to contact the public provider of your choice to discuss the process for turning in your certificate!
VPK Standards
The mission of the Florida VPK Education Standards is found in Section 1(b), Article IX of the State Constitution:
Every four-year old child in Florida shall be provided by the State a high quality prekindergarten learning opportunity in the form of an early childhood development and education program which shall be voluntary, high quality, free, and delivered according to professionally accepted standards. An early childhood development and education program means an organized program designed to address and enhance each child's ability to make age appropriate progress in an appropriate range of settings in the development of language and cognitive capabilities and emotional, social, regulatory, and moral capacities through education in basic skills and such other skills as the Legislature may determine to be appropriate.
For more information, please download the new Four-year-old Standards.
VPK REGISTRATION BEGINS HERE!
Please click here to visit our VPK registration page!